Hi All,
Daphne and I have been at home in Port Elizabeth, except for two visits to our family in Montagu, since the week before lockdown in March. This has been, for us, a good time to repair and update things in our flat that have needed doing for a few years. So, our positive saying is," there is always some good that comes out of bad".
Although we have felt very isolated from the project we have embraced technology and with the team in the mountains we have achieved some of our goals of 2020. We even held our AGM via Zoom. We had to adapt and were fortunate that with the internet and cell phones we have been able to assist the Khanyisela Project teachers with food parcels (delivered by the team in the valley) and cash payments in lieu of salaries with the wonderful donation from Care for Education. This helped tremendously to tide them over until the schools opened. All made possible by donations from organisations and individuals.
Most of the pre-schools opened at the beginning of September, with all Covid 19 protocols put into place, thanks to a fantastic workshop held at the Cavern by Megan and her team. Two schools could not open because they had no water in their tanks and the Bergville Municipality had not delivered water as requested. (R500 per 500lt.) Daphne phoned her contact at the Municipality and low and behold water arrived the next day. And the bonus! Free of charge.
Registration at most of the schools was slow and they are still not up to their pre-Covid numbers, however, we are confident that the numbers will increase in the New Year. Our mentors, who were unable to continue their work during lockdown, were given the task of visiting each school after they opened to check that all the Covid 19 Government protocols were being adhered to. As usual our mentors did a fantastic job and sent us reports on each school.
---
Little Flowers New Building
The newly built school opened in September with a small number of pupils. One of our achievements under lockdown. Some parents and carers were cautious about sending their children and some could not afford to send them due to loss of income. The school has otherwise been really well received by the community and although they have 15 children at the moment we are expecting numbers to rise in the New Year.
The teachers are so happy to have a safe, equipped building to be able to accommodate the children and the head teacher will be attending her Early Childhood Development level 4 graduation soon.
---
Book Dash
We have been so fortunate to partner with Book Dash. Their aim is for every child to own a hundred books by the age of five, before they enter school. Owning your own stories and having books at home helps promote reading and literacy and this year, despite the challenges, we have distributed more than 2000 stories into our community! What a gift.
---
Baby Boost
Unfortunately new BabyBoost sessions are still on hold, but the two existing groups that had commenced in February and March have continued with their home visits. The Library and Playgroups have had to be put on hold.
Our head facilitator, Irene, who was also a teacher at Royal Drakensberg Primary School, was offered, and accepted a job at a Government primary school in amaZizi. We were very sorry to lose her, but wish her well in her new position. Irene feels that she will be able to assist so much in her new school with all the training and experience gained from her time at the Royal Drakensberg School.
We are fortunate to have two other facilitators who were able to continue with the BabyBoost home visits. Due to Covid -19 we have had to modify the visits, but they are running well. Sibononelo and Fikile send videos of the home visits to Marysia Nash, our BabyBoost founder and developer in Edinburgh. Marysia then studies the sessions and sends comments to help and improve the sessions.
---
Vumelani Roof
We have been planning to paint Vumelani's roof for some time and when the local painter checked it was apparent that many of the roof timbers were rotten and needed replacing.
The roof has now been repaired, waterproofed and is ready to be painted.
Vumelani Roof
---
Jumble Sales
Since The Cavern reopened their doors to guests in September they have received lots of donations of clothes. So much so that Megan was running out of storage space, so she held a big, much wanted (by the community) jumble sale, in the school grounds with the help of the Royal Drakensberg Primary (RDP) school teachers. Lots of fun and sales.
It was such a success and raised almost R7000.00
---
Big5hike For Education – Save the Date
Due to the lockdown, sadly we had to postpone the annual Royal Drakensberg Primary Big5Hike fundraiser until 2021.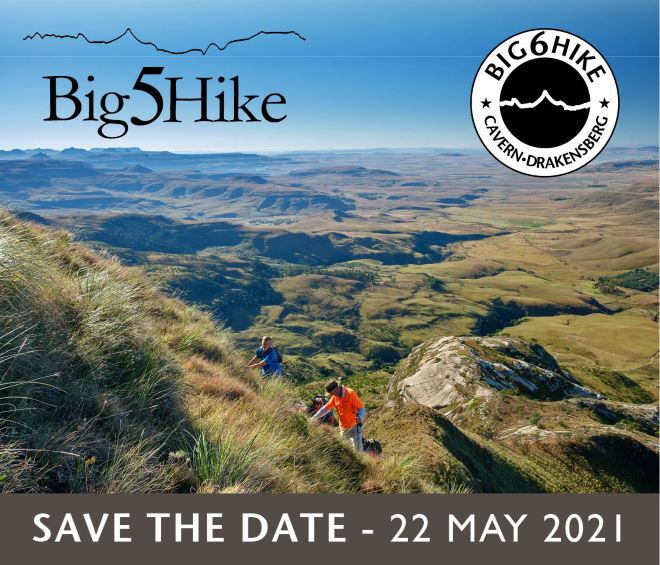 ---
Project Funding And Donations
We are all hoping that next year will see all the schools and BabyBoost, returning to something like normality, although probably still having to comply with Covid protocols. Daphne and I are planning to be in the area when the first term begins towards the end of January.
We will be assessing their needs for the year and supplying them with stationery, toys and delivering porridge.
As always we rely on donations to cover the schools requirements and to enable us to send more ladies to teacher training.
We realise that due to the Covid-19 pandemic most people and businesses are battling to make ends meet, but any donation, no matter how small would be much appreciated.
Don't forget to like us on FACEBOOK
As the Festive Season approaches we all wish you a peaceful and safe break, hopefully spending time with friends and family. Don't forget your masks and social distancing whenever out. We don't want another lockdown to spoil the holidays.
Best wishes to you all,

Dave & Daphne Thurlwell, Megan Bedingham, Jean Carte, Georg Rotter and Liesje Carter

The Northern Drakensberg Khanyisela Project
Email: projects@royal-drakensberg.org.za Tel : 083 512 0146
Non-Profit Organisation (NPO) No: 190-132 NPO
Public Benefit Organisation (PBO) No: 930059368