Hi All,
Daphne and I spent two weeks at the Cavern to prepare and help the pre-schools after they opened on 15th February. It was a busy two weeks!
We had already ordered toys (19 boxes) which were delivered to the Cavern and bought stationery and some toys in Gqeberha (I had to check how to spell it and I still can't pronounce it perfectly). So, prior to the schools opening we checked the toy delivery and packed them, along with stationery and sanitary products, ready to distribute to each individual school. Fortified porridge also had to go out.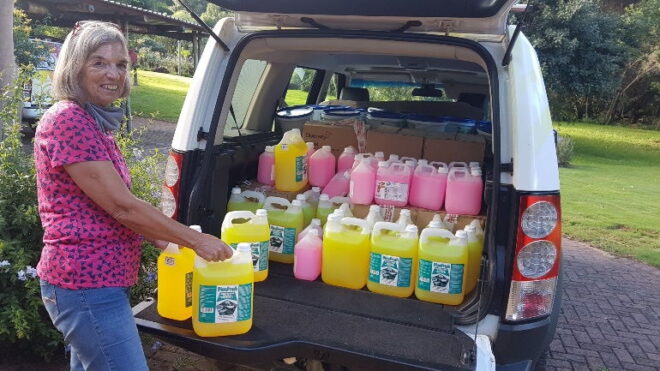 We experience lots of rain prior to the opening of the schools and we were quite concerned about being able to get to some of the more remote ones. Luckily, we had a few hot sunny days and managed to get to all the schools. Daphne did get stuck at one school, abandoned the vehicle and left it to me to get out, but we managed and drove back to the Cavern relatively unscathed!
Over five days we visited and issued everything to each of the 18 schools. We made notes of repairs needed and of improvements that needed to be done.
We are grateful to Terry Dunmore for his donation to assist with additional cleaning products and to Diversey Africa, Halls and Geochem for the generous donations that have made sure all our schools are safe to operate.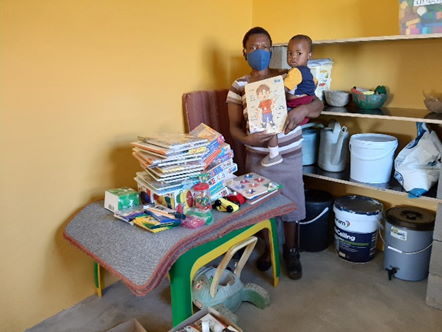 The pupil numbers at most of the schools were quite low. The reasons apparently are related to fear of the pandemic and a lack of money to pay the nominal school fees. But, slowly numbers are improving as cases in the country continue to drop.
Whilst at the Cavern we arranged for burglar bars to be installed along with bag hanger rails and rails with hooks at the new Soro Little Flowers School.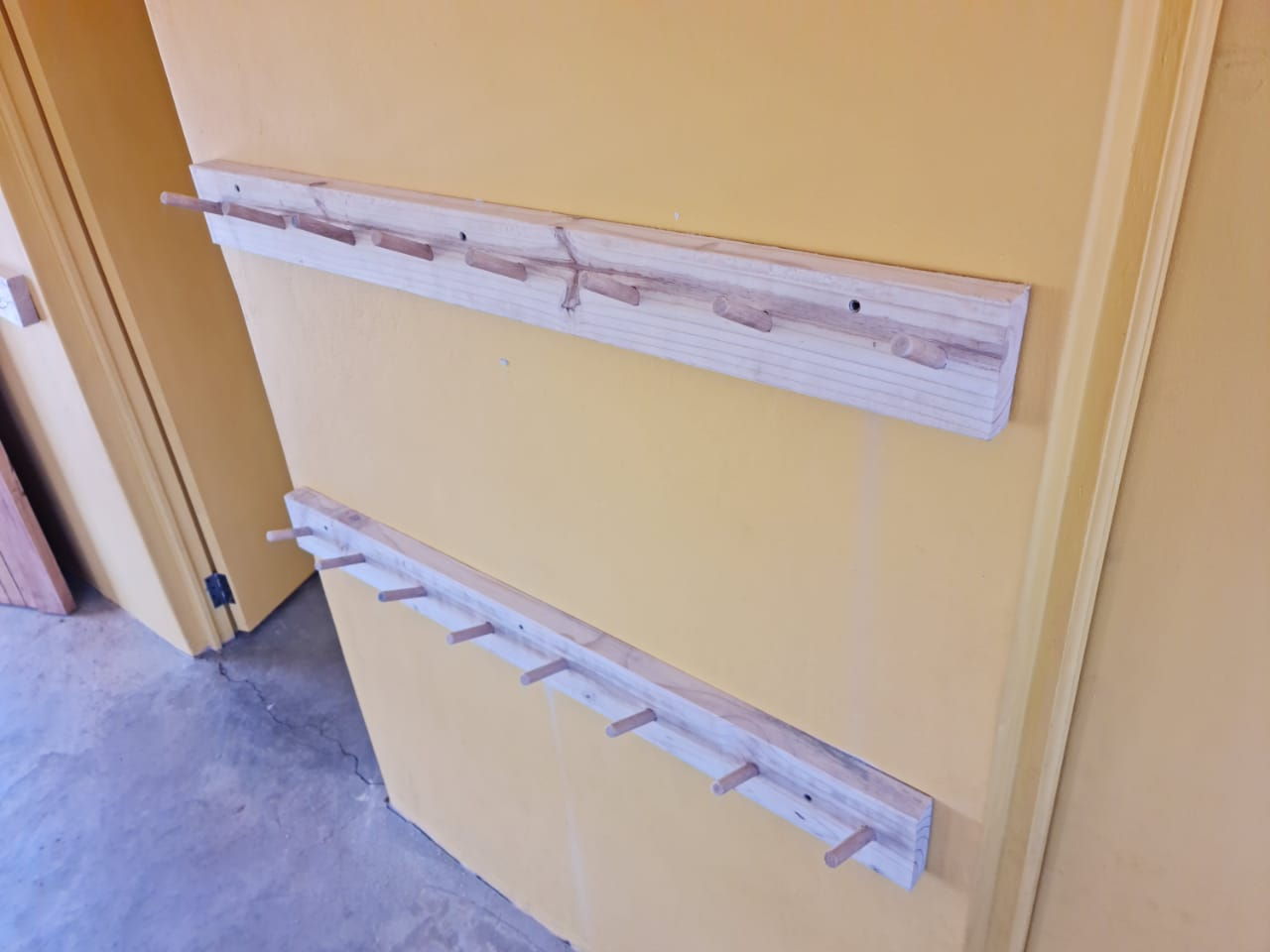 Storeroom shelving and hanging rails were also installed in two schools and a new jungle gym and swings were erected at Bonokuhle school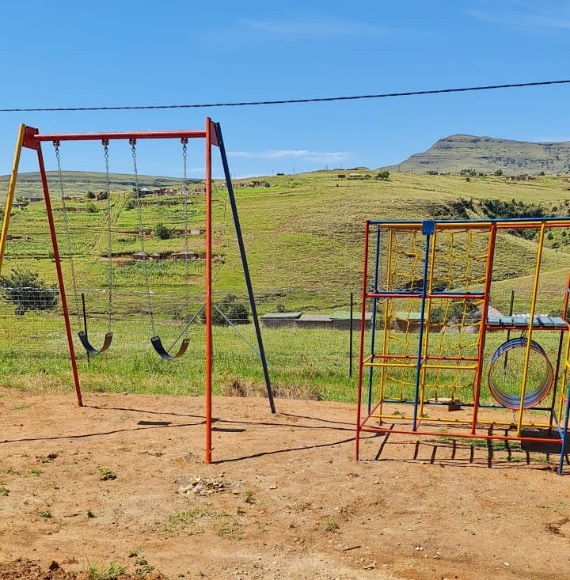 Book Dash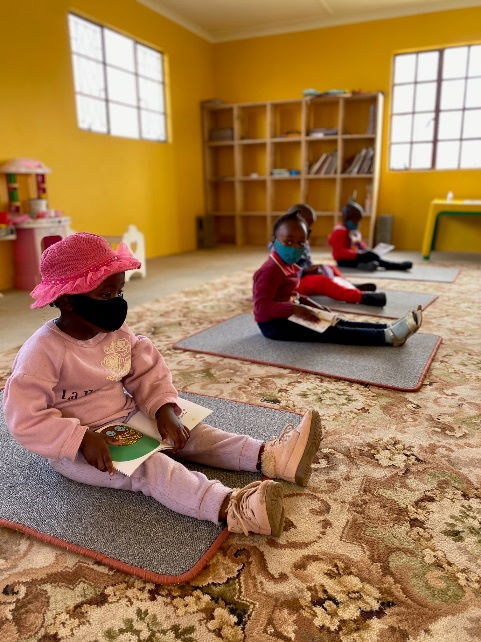 Book Dash have had some great specials on books again and we have bought more. Owning your own stories and having books at home helps promote reading and pre-literacy skills. So, these books are being given to the children to keep and take home.
---
BabyBoost
The BabyBoost groups have begun once more. We have managed to arrange two large halls so that there is plenty of space for everyone and all the carers were issued with masks. These ladies come together every 2 weeks and we are also taking care and watching for any developments which may result in us making changes but for the moment we are able to proceed quite safely.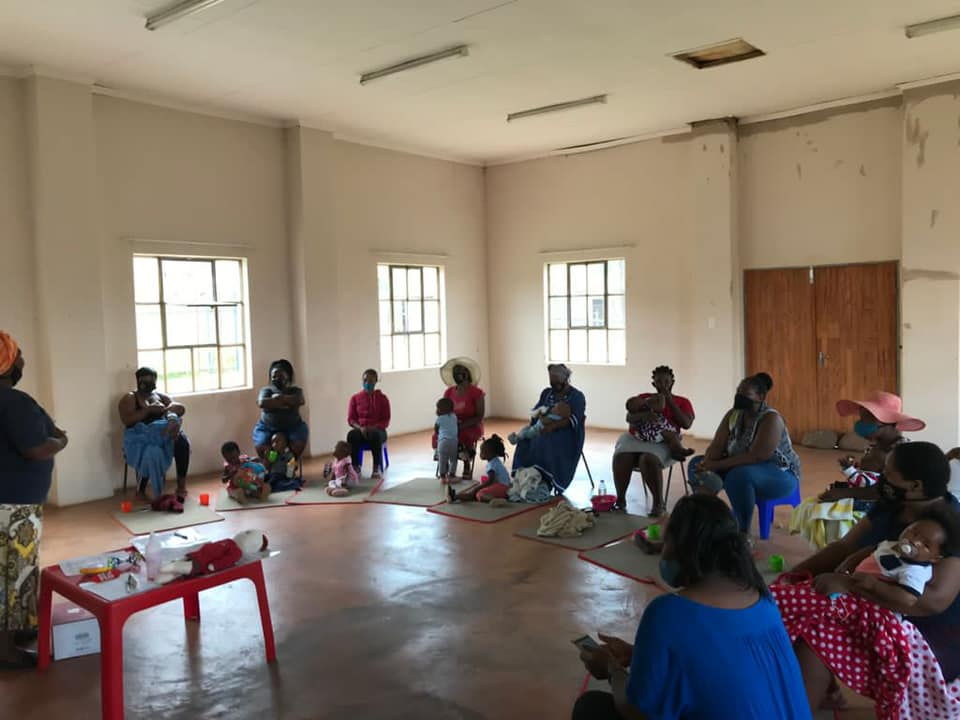 We have seen how valuable this intervention is and how much the woman love and learn from the workshops and home visits.
---
Teacher Training
We also had 3 Khanyisela teachers, who are currently doing their Early Childhood Development level 4 training at Midlands College, with us at Royal Drakensberg Primary (RDPS) for a week. At RDPS they are getting a bit more exposure to the practicalities of teaching and seeing different methods of implementation. We have seen this as a valuable way to improve the level of teaching in the village schools.
---
Jumble Sales
Wow! There was so much donated jumble when we arrived. Overflow from the storerooms into another room. But, we collected it all, Daphne sorted it out and we boxed and bagged it into ladies, mens, children's clothing, shoes and household goods etcetera ready for Megan and the RDPS teachers to price and sell at their next jumble sale which will be soon!
---
Big5hike For Education – Save The Date
Due to the lockdown, sadly the annual Royal Drakensberg Primary Big5Hike fundraiser in 2020 had to be postponed until this year.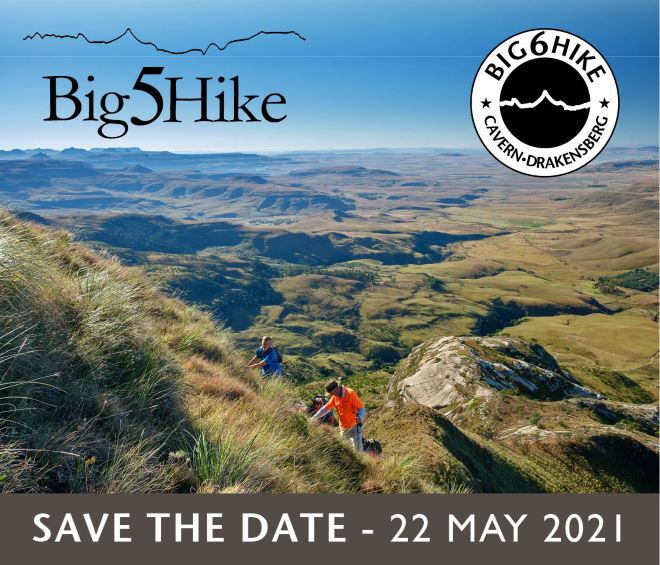 There are still some places available. For more information:
Big5Hike
---
Project Funding And Donations
As always we rely on donations to cover the schools requirements and to enable us to send more ladies to teacher training. We realise that due to the Covid-19 pandemic most people and businesses are battling to make ends meet, but any donation, no matter how small would be much appreciated. We thank those of you that have given donations in these difficult times. To Donate:
---
Don't forget to like us on Facebook
Best wishes to you all,
Dave & Daphne Thurlwell, Megan Bedingham, Jean Carte, Georg & Gertrud Rotter and Liesje Carter
The Northern Drakensberg Khanyisela Project
Non-Profit Organisation (NPO) No: 190-132 NPO
Public Benefit Organisation (PBO) No: 930059368