Hi All,
Well it has been an abnormal last few months with Covid-19 lockdowns in place. All the Khanyisela pre-schools closed down in the third week of March and as of the 25th August have not yet re-opened. Most are planning to open at the beginning of September.
As the teachers rely on school fees for their salaries none of them were going to be paid during the time the schools were closed. However, we, with the help of donors were able to supply them with food parcels and monetary payments to help them and their families get through these trying times.
---
Food Parcels
In April Daphne said to me, "Should we consider giving the teachers food parcels to help them and their families?"
So we emailed the board members and all agreed it was a good idea.
We contacted a local food market (Natalheim) and asked if they could prepare food parcels? They could and were very helpful and prepared these "parcels" (not really parcels as each one is approximately 55kgs of food). Maize meal, potatoes, rice, flour, onions, beans, butter nuts and oil.
Resorts in the valley (The Cavern, Sungubala, Montusi Lodge and All Out Adventures) delivered all the parcels to our 18 pre-schools for the teachers to collect. They were all so happy and very grateful to receive the parcels which they did not expect.
To raise funds for future food parcels the Cavern, along with Lyngrove Winery offered a draw prize at the end of May and June. The money raised enabled us to issue food parcels at the end of May and early in July.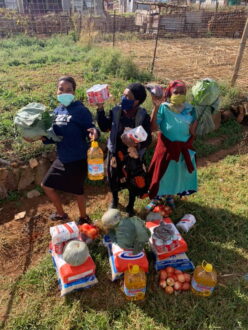 Below are some messages received from the teachers:
"Hi Daphne and Dave, I like to thank you for the grocery you gave us. Thank you for remembering us during this tough time. You did great for us and our families. My family is happy. Thank you. Nikiwe."
"Thank Mem Daphne, Dave and the team for food parcel and the porridge and when I'm delivering the porridge to the kids they were saying thank you so much."
We thank everyone who kindly donated towards these food parcels.
While delivering the food parcels we also delivered fortified porridge for the teachers to issue to the school children.
---
Teacher Payments
Daphne put in an application for teacher stipends to Care For Education as they were applying for some funding from The Lego Foundation in Denmark. Care For Education would put in the application to obtain funds for us to be able to pay our teachers for the time they would not be receiving any payment from parents. Our teachers receive very small monthly wages which are totally dependent on the number of children at their school, so obviously nothing during lock down.
Well, we succeeded and we received R82000.00. So, each teacher received R820.00 in May and R820.00 in June.
Furthermore we received a further R82000.00 in July. So, each teacher has received R820.00 in July and August.
Daphne said, "I am so happy for them and I must admit I shed a few tears and can't thank Care For Education and the Lego Foundation enough."
---
Little Flowers New Building
The construction of Little flowers school was planned to begin early in April, but, was put on hold due to "lock down".
With lock down relaxations we were able to do the construction and the building was completed at the end of June thanks to Awesome Kitchens and the owner Avalon. Avalon used as much local labour as he could to help in the community.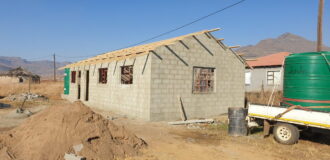 Claudette, the principal, has told us that the community are very excited to have this new school building in the area. Normally when we build a school in an area the number of pupils attending goes up dramatically. In these trying times let us hope the same happens at Little Flowers.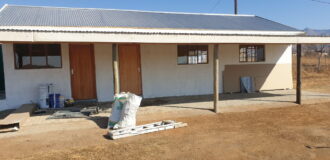 This building was made possible by the generous donation from Georg and Gertud Rotter and their SORO charity, based in Austria. Georg and Gertrud were supposed to have been here in South Africa when the building was finished, as originally programmed in April, but due to the Coronavirus everything has been delayed. We look forward to Georg and Gertrud visiting us again next year to see the SORO Little Flowers school up and running.
The school will open in September and hopefully the numbers of pupils will increase. We look forward to hearing from Claudette.
---
BabyBoost
Unfortunately BabyBoost is still on hold, but we have two groups waiting for their home visits, which we plan to begin in the near future.
We are not sure when playgroups and libraries will start up. These will be started as soon as possible with all the precautions put in place.
The Edinburgh Rotary club has again awarded us a grant of £1500, about R30000.00, towards the continuation of our BabyBoost programme.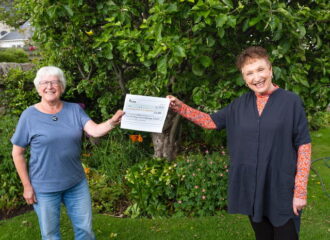 We thank the Edinburgh Rotary Club for this donation, particularly during these trying times when there are so many deserving cases out there.
Marysia Nash, our BabyBoost founder and developer, looks forward to returning when the world gets back to normal and to building an even brighter future with the local team.
---
Workshop
A court order meant that the ECD centres across the country could open. After such an intense lockdown that was great news but our rudimentary facilities would need a bit of help to get going. Phone calls and messages flew through cyber space and before we knew it, we had offers of wonderful donations which would ensure that the Khanyisela Pre-Schools would be equipped to open and operate in compliance with Covid-19 protocols. There were reams of documents and recommendations and so we worked carefully through the detail and drew up standard, simple structures and we then gathered and workshopped together as a team.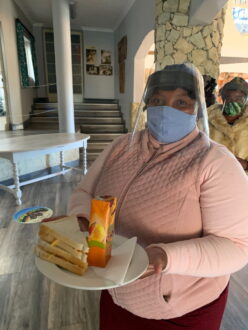 Hand washing and mask wearing were imperative but so was good ventilation. As a result, on the cool Winter morning, we kept the windows open! Tea and warm sunshine was a welcome relief from the administration of the day! We defrosted and warmed up for session two which was all about books and reading. We were thrilled to have received 1000 books from Book Dash. These gorgeous stories are take-home gifts for the children. Reading is the most wonderful tool to help develop a young brain and reading together with someone from home, helps develop strong bonds in the family. Books and stories at bedtime create a safe routine and often help children sleep better. Just the most lovely addition to a home!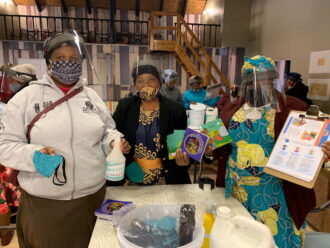 So, huge thanks goes to N3TC for making these gatherings possible, thank you Book Dash for the wonderful stories, so much gratitude to Geo-Chem for the sanitizers and to the greater Cavern & Khanyisela community for the donations which helped us purchase thermometers, buckets, extra spray bottles, toilet paper and masks. These little schools are ready for a brand new start!
---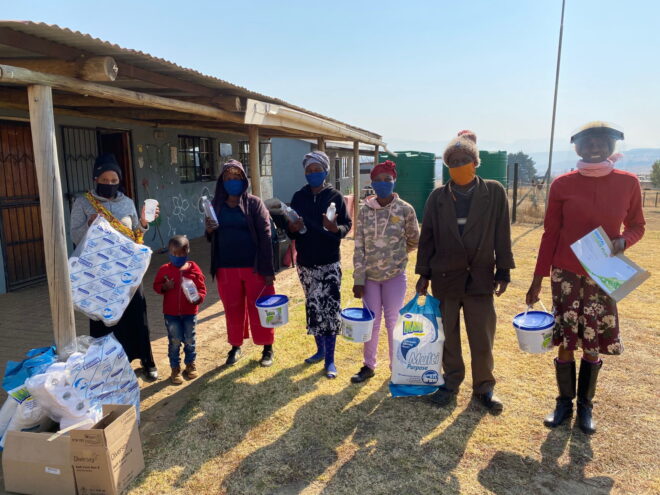 Diversey Drop-off
Following the workshop we were also sent a fabulous donation of cleaning equipment from Diversey Africa. Wonderful cleaning products, Rayol washing powder, bathroom cleaner, hand sanitizers and soap! An incredible gift to the community and a huge help in ensuring that both the teachers and the children are protected during this pandemic.
---
Jumble Sales
The Cavern is back up and running and already they have received wonderful donations of clothing, toys and books. Unfortunately no jumble sales have been held due to lockdown, although Daphne has sorted and marked enough for two sales.
---
Big5hike For Education – Save The Date
Due to the lockdown, sadly we had to postpone the annual Royal Darkensberg Primary Big5Hike fundraiser until 2021.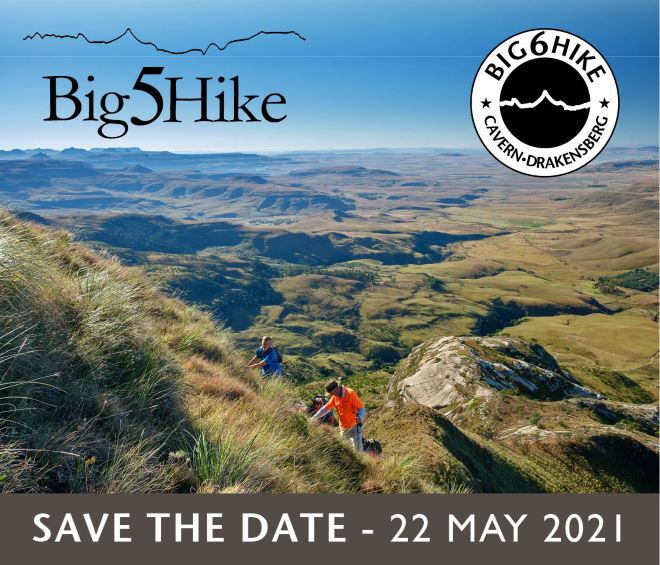 ---
Project Funding And Donations
At the moment no one has any idea when a sense of normality will return after this coronavirus pandemic is over. I think it will be a long time before it is over and then we will have a very different "normal" than we have experienced in the past.
But, we will get over it, and we will continue to assist our 18 pre-schools and the BabyBoost Programme.
The schools will be up and running again and we will still need donations to continue assisting them.
Don't forget to like us on FACEBOOK
Keep safe and keep well during these uncertain times.
Best wishes to you all,
Dave & Daphne Thurlwell, Megan Bedingham, Jean Carte, Georg Rotter and Liesje Carter
The Northern Drakensberg Khanyisela Project