Hi All,
After a long overseas trip to visit family and friends Daphne and I spent a busy few weeks at the Cavern holding jumble sales, delivering porridge and painting schools.
We then spent a very short time at home before Daphne hauled me off to Montagu to see the grandchildren.
We will be back at The Cavern in the New Year, hopefully to find lots more jumble waiting for us.
Read on to see what has been happening at the pre-schools:
---
New Schools
The Khanyisela Project has "Adopted" two new schools over the last few months. Vukani and Bonokuhle. Fortunately these schools have adequate buildings, but they are in need of educational toys, equipment and stationery.
This brings the number of schools we assist up to 16 with a total of over 600 children.
---
Sbusisiwe School
This little school (not so little anymore with 58 pupils enrolled), which was opened at the beginning of the year needed to be painted in the colours of Khanyisela. So with a lot of help from Georg and Gertrud, Daphne and I painted the outside walls. This was done in the school holidays and we received lots of encouragement from the locals who were quite surprised to see us doing the painting.
All the teachers and children love the colours.
Georg has already pointed out which school we should paint during their next visit.
---
School Visits And Porridge Delivery
Whilst Georg and Gertrud, from Austria, were here, we visited some of the schools.
Daphne and I delivered the October porridge to all the schools.
Before we went away in July we arranged for the Ekukhanyeni pre-school to have a ceiling installed and a portion of one classroom to be walled off to form a storeroom.
---
American Students
While we were away, Fadia of Sun Tours, brought a group of American students to paint Vumelani pre-school.
Thank you Fadia and your tour group of American Students. Since the school has been painted the pupil enrolment has increased from 13 to 28. It is amazing what a coat of paint can do to the community's perceptions,
---
Baby Boost
The first book and toy library, run by Fikile, started operating in July. This is a totally new concept to the rural people and as we anticipated, we have encountered a few teething problems.
However we will persevere and are sure that in time it will be a success.
Our next Baby Boost sessions (5) are planned to begin in May next year. Hopefully our application for funding for this will be successful.
---
Teachers Lunch
The annual teacher's lunch was hosted this year by The Cavern Resort. Chef Donald and his team served up a delicious lunch and received lots of compliments.
As usual we held a lucky draw for the very popular Spar gift vouchers. One table of ladies were very lucky, winning four vouchers between them. Thank you, Bergville Spar, for donating vouchers.
Thank you Cavern Berg Resort for making the annual lunch possible.
---
Jumble Sales
We held two very successful Jumble sales, one at The Cavern and one at Samekelokuhle school before we left and raised another R4000.
Over the course of the last year the jumble sales have raised over R30000 towards the Khanyisela Project. Thank you everyone who has brought jumble to the Cavern for us to sell.
Please keep it coming as Daphne will be back in the new year to sort, price and sell.
---
Food Garden
We were very pleased to see that some of our schools have started vegetable gardens to supplement the meals given to the children.
Below is the garden at Emseni pre-school being watered by their gardener/handyman.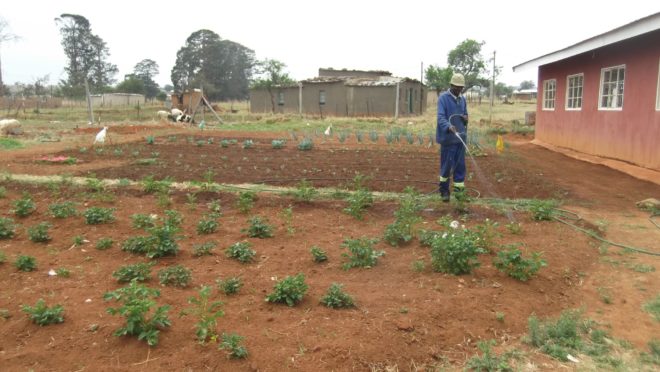 ---
Football Boot Appeal
Football is one of the few sports that our local community has facilities for, although many of them consist not of grass pitches, but clay/gravel ones.
Please collect and bring old (but in a reasonable, useable condition) boots to the Cavern for us to distribute to the budding Bafana Bafana players.
---
Big5Hike For Education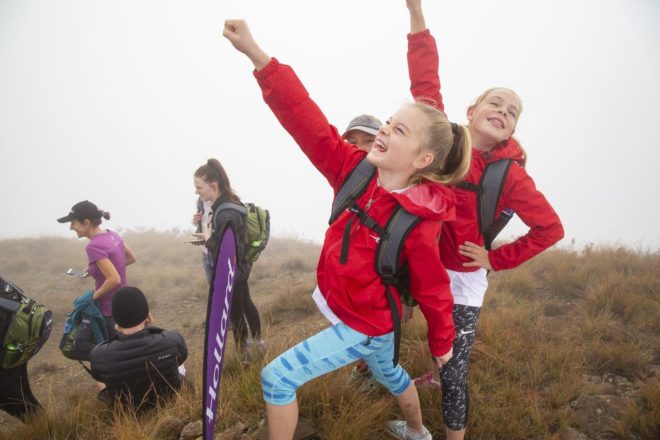 The Royal Drakensberg Primary School's main fundraiser, Big5Hike for Education will be held over the 24th to 26th of May weekend.
This is a great fundraising event and is always fully subscribed. So, if you want to participate make sure you contact info@cavern.co.za to reserve your place.
---
Project Funding And Donations
I know I repeat myself, but all donations, be it time or money or jumble, are appreciated no matter how big or small. It all goes towards what we think is a worthy cause, in the hope that in a small way we are contributing to the improvement of education, which is so desperately needed in our beautiful country.
If you, or if you know anyone who wishes to make a donation to the Khanyisela Project, please visit our website or contact Dave or Daphne – projects@royal-drakensberg.org.za – for details on how to donate.
Don't forget that The Cavern, in an effort to get more donations for the Khanyisela Project, is now linked to "Pack for a Purpose".
So if you are visiting from overseas or have family or friends visiting from overseas look at the website to see how you/they can help. We have listed our needs on the Pack for a Purpose website.
Don't forget to like us on FACEBOOK
Best wishes to you all,
Dave & Daphne Thurlwell, Megan Bedingham, Jean Carte, Georg Rotter and Liesje Carter
The Northern Drakensberg Khanyisela Project Tel : 083 512 0146
Email: projects@royal-drakensberg.org.za
Non-Profit Organisation (NPO) No: 190-132 NPO
Public Benefit Organisation (PBO) No: 930059368