Hi All,
We returned to The Cavern early in September to welcome overseas visitors, Terry Dunmore from the Rotary Club of Retford, England, Marysia and Gemma from Edinburgh, Scotland and Gertrud and Georg from Vienna, Austria.
Read on to see what we have all been up to.
---
Fortified Porridge
Every year the Rotary Club of Retford, England, hold lots of fundraising events, Christmas Markets, Garden Breakfasts, Art exhibitions and more to raise money for their "Bread Fund" for the Khanyisela school children. This started many years ago and the money was used to provide bread and peanut butter for sandwiches each day for the children.
In 2010 we were told of a fortified porridge that in one serving a child would get all their daily requirements of vitamins and minerals. After checking the porridge we decided to stop the peanut butter sandwiches and supply the porridge.
In September Terry Dunmore, from the Rotary Club of Retford visited, with his grandson and came and assisted in the delivery of the porridge to the pre-schools.
We thank the Rotary Club of Retford for their continued support and hope to welcome more of their members here in October 2020 to see how their support, not only with the porridge, has helped to improve the lives of educators and learners in the rural Amzizi area of the Northern Drakensberg.
---
Baby Boost
This has been a special year for our new project BabyBoost. Following on from the pilot sessions, Marysia Nash, from Edinburgh, has adapted the programme and visited us twice this year to implement new sessions and assess results. See Marysia's comments below.
Back in March, Daphne and Dave with my wonderful Scottish colleague Gail helped establish our first full Babyboost programme in 2 locations. Adding to our existing coaching sessions and home visits for carers, we set up 2 playgroups and another toy library enabling children and carers to have an extended experience and many more opportunities to learn and develop together …
On my second visit in September with another marvellous Scottish colleague Gemma (by now an old hand) we were thrilled to see how well our lovely local team Irene, Sbonolelo and Fikile were managing . The programme, in two locations was running well and a third programme was about to start. Thanks to a generous grant from the Rotary club of Edinburgh we were able to stock and set up a third toy and book library with amazing second hand educational toys bought in the UK and transported free by British Airways. Wonderful new books in isiZulu were bought in South Africa including some great new baby titles from Bookdash za. With Dave T's marvellous DIY skills and Dudu's strong arms the toy library was soon ready and waiting for our new cohort.
Although guided by research as to appropriate support in the vital first 1000 days, it's equally important to have some measure of how participants view and benefit from what is offered. We therefore carried out structured interviews via an interpreter to seek carer views from 2 existing groups. We were so pleased to find out that carers felt they had learned and changed their behaviour towards more stimulating experiences for their little ones. The access to toys and books was greatly valued and in short they all wanted the playgroups and toy libraries to continue.
So as the year ends I am so grateful for the generosity which enables a better start for the tiniest members of the amazizi community …to Gail and Gemma who came all the way from Scotland and worked so hard, to our generous donors large and small .. from toys and suitcases to grants…to our amazing local team who have developed so many skills , to Daph and Dave who are the bedrock of all of this and to the Cavern who support us all in so many ways… Here's to next March 2020 when I will be back to monitor and help with our new location….
We wish to thank Marysia for the tremendous amount of time and effort she has put in to develop and implement this very important programme in our rural Amazizi area. Our thanks also go to her friends and colleges in Edinburgh and to the Rotary Club of Edinburgh.
---
Lego/Duplo
We have issued Duplo blocks, which were kindly donated by the Lego Foundation through Care for Education, to all the pre-schools. The children love playing with them. (So does Dave.)
Our thanks to Karen Chambers for presenting a workshop at The Cavern, where she demonstrated to the teachers how to use the Duplo Blocks for language development and play.
---
Painting
The G&G and D&D team, with some help from Liesje, are getting quite proficient at painting pre-school buildings in what has become the Khanyisela colours. This time we painted Ekuhanyeni school in Langkloof. Day one was 30+ degrees with howling wind and finally we were driven away by a dust storm. Day two was somewhat different as the temperature was only 13 degrees.
Sindisiwe and staff were very pleased with their lovely brightly painted school building..
---
Maintenance
Two of our schools, Samekelokuhle and Vumelani, suffered damage to their roofs in a wind storm.
We arranged for, and both roofs were replaced/repaired, thankfully before the rains start.
---
Year End Lunch
This year Montusi Mountain Lodge kindly hosted our end of year lunch for all the Khanyisela teachers, assistants and cooks. Everyone received a gift of lipstick, face cream and suncream that Gertrud brought from Austria. Apparently Gertrud bought all the red lipstick in their village. There were also lucky dip prizes for everyone including SPAR vouchers kindly donated by Bergville SPAR.
Everyone looks forward excitedly to the lunch and again this year they were not disappointed.
---
Jumble Sales
Once again we arrived to bags and bags of jumble donated by friends and Cavern guests. Thank you. This was sorted and priced by Daphne and we held two jumble sales in the rural Amazizi area and one at The Cavern and raised over R9000.00 towards teacher training costs.
So if you are heading to The Cavern, please try and bring us some jumble for sales to be held in the new year.
---
Big5hike For Education – Save The Date
The Royal Drakensberg Primary School's main fundraiser, the Big5Hike for Education, will be held over the 15th to 17th of May weekend, 2020.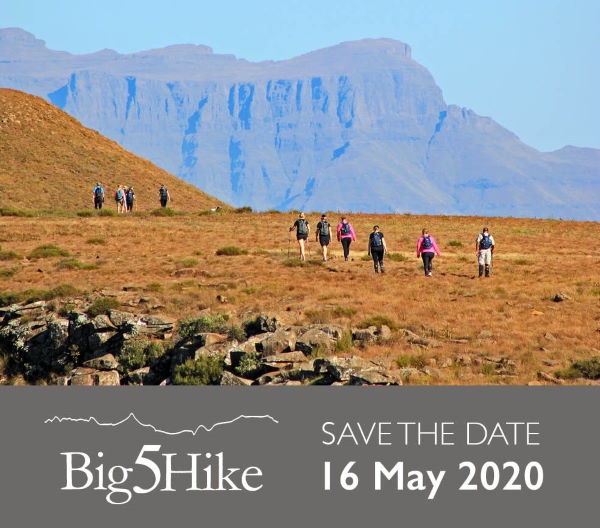 ---
Rand Merchant Bank
Our thanks go to RMB for purchasing Jungle gyms and swings for three of our pre-schools. These will be delivered in the New Year.
---
Project Funding And Donations
We are now assisting 18 pre-schools (almost 700 learners), along with BabyBoost mothers and carers in the rural Amazizi village and are always in need of donations to help us continue our work. Therefore, all donations, be it time, money or jumble, are appreciated no matter how big or small. It all goes towards what we think is a worthy cause, in the hope that in a small way we are contributing to the improvement of education, which is so desperately needed in our beautiful country.
Why not consider Donating your Birthday? Maybe this year, you could ask friends, family, and co-workers to celebrate your birthday by donating to Khanyisela in place of presents.
No matter how BIG or small, your donation makes a difference
If you, or if you know anyone who wishes to make a donation to the Khanyisela Project, please visit our website or contact Dave or Daphne – for details on how to donate.
Don't forget that The Cavern, in an effort to get more donations for the Khanyisela Project, islinked to "Pack for a Purpose".
So if you are visiting from overseas or have family or friends visiting from overseas look at the website to see how you/they can help. We have listed our needs on the Pack for a Purpose website. www.packforapurpose.com
Don't forget to like us on FACEBOOK
We cannot forget to congratulate Siya and the whole Sprinkbok team and support team for their fantastic achievement in beating England to "bring home" the Rugby World Cup for the third time. Go Bokke!!!
Best wishes to you all,
Dave & Daphne Thurlwell, Megan Bedingham, Jean Carte, Georg Rotter and Liesje Carter
The Northern Drakensberg Khanyisela Project
Tel : 083 512 0146 – Email: projects@royal-drakensberg.org.za
Non-Profit Organisation (NPO) No: 190-132 NPO
Public Benefit Organisation (PBO) No: 930059368