Hi All,
Daphne and I have just spent several weeks at the Cavern whilst working with the Khanyisela Project mentors and Belgian Early Childhood Development (ECD) students at the pre-schools.
We also held our normal jumble sales and delivered porridge, stationery and toys.
Now we are back in Port Elizabeth for a few weeks and enjoying long beach walks in the sun.
Belgian Early Childhood Education University Students
Two Belgian students, Katleen Vermeulen and Rani Staelens are doing their university internship here in South Africa. They are living for three months in Amazizi and working in a few of our pre-schools.
Their help and input with educational play, formalizing written instructions for using educational toys and generally organizing class and store rooms has been welcomed by the teachers.
---
ZAMOKUHLE SCHOOL
As stated in our previous news update we have been planning to build Zamokuhle pre-school an additional classroom for a few years but due to other commitments we have not had the funding.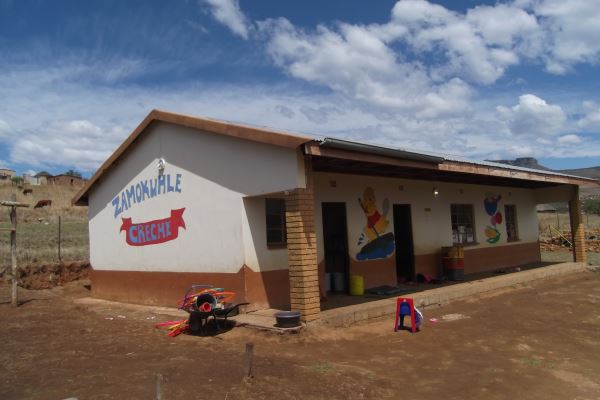 We now have sufficient funds, due to a R50000.00 donation from Denso South Africa, to build a new classroom and construction should begin before the end of March. The teachers are very excited that they will be able to split their age groups between the two classrooms.
Is there anyone who is willing to come and help us paint the inside of the school? We will supply the paint and equipment.
---
SBUSISIWE SCHOOL
As you probably all know the wheels of local government move slowly. Well the application for "Permission to Occupy" (PTO) a piece of land was submitted to Pietermaritzburg in October. Finally officials arrived towards the end of February and inspected and approved the land for the school to be built on. Now this has to be "rubber stamped" in Pietermaritzburg. Hopefully this will be done at their monthly meeting at the end of March. Building can then begin after the Zamokuhle building is completed.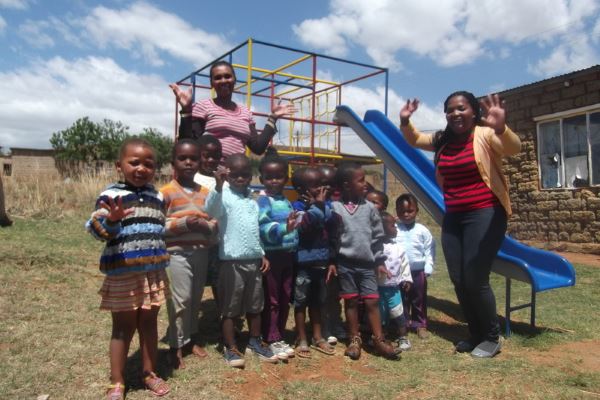 The funds to build this school have been generously donated by Georg and Gertrud Rotter, good friends of South Africa, who visit regularly and assist various projects. They are visiting us in May and hopefully will be able to see the school being built.
---
MENTORS
Our two mentors Gabusile and Theresa continue to impress us with their assistance to the pre-schools. They organised and held a workshop for all the school teachers before the opening of the school year. The focus of the workshop was on the importance of proper planning for the forthcoming year. They also discussed the teachers concerns and difficulties.
Both mentors are very positive and stated that this year they will continue to work hard to help each of the schools allocated to them.
---
Teachers Christmas Party
We held a very successful and enjoyable Christmas lunch for 40 of our teachers, assistants and cooks at the Tower of Pizza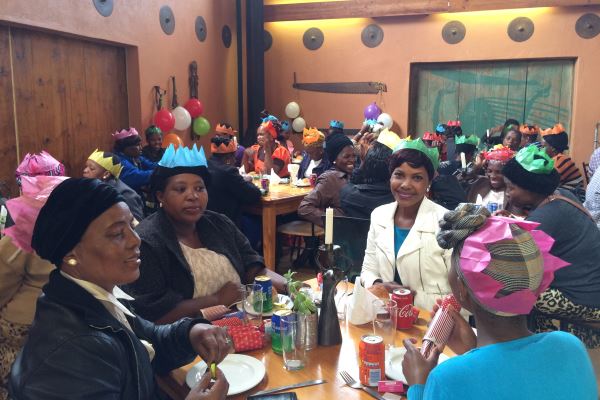 Everyone received a gift in the lucky draw. We thank the Bergville Spar for sponsoring some Spar gift vouchers which were the most sought after prizes.
---
Marysia Nash and Gemma MacDonald
Marysia and Gemma are coming from Scotland again for two weeks in May to continue mentoring our teachers. We hope that after their work and the introduction of the two local mentors that they will see an improvement in the teacher's ability since their visit last year.
More and more we are seeing articles and reports stressing the importance of early childhood development, particularly during the first 1000 days. This is something that we feel is lacking in the rural community. Whilst here, Marysia and Gemma are going to start a pilot project which will teach the importance of care giver interaction with babies from birth.
We look forward to working with, and learning from, Marysia and Gemma in May.
---
Jumble Sale
Resort guests, friends and family have been very generous at bringing us jumble and Daphne was kept very busy sorting and pricing everything. We had so much that we were able to hold three jumble sales. One was held at the Royal Drakensberg Primary school and two at pre-schools in the Amazizi area. The ones in Amazizi are very popular with the residents and they have asked us to hold more sales there. So please, keep the jumble coming.
We also need any surplus dolls, teddy bears etcetera for our fantasy corners at the pre-schools. So bring them along as well.
---
Knitwear
Sage Foundation
Employees of Sage came to spend time working at one of our schools in March. We had decided that they could paint the Vumelani pre-school which, as can be seen below, needed a bright coat of paint. We supplied 40 litres of paint which we thought would be plenty for the job. But the stippled plaster finish absorbed so much that they could only complete the front of the school. We are very grateful for their help and sorry that they could not do the whole building but they have brightened a dreary space to make it welcoming and warm for the children.
---
PROJECT FUNDING AND DONATIONS
We once again wish to thank Mrs Brink for a kind donation. The money is being used to purchase Zulu books for all the pre-schools.
We would like many more supporters for our project. So if you would like to donate a small monthly amount to this worthy cause it would be fantastic. As we are part of Hearts for Hope we are able to issue tax certificates for any donations made to us.
Contact Dave or Daphne – projects@royal-drakensberg.org.za – for details on how to donate.
Without all your donations, both big and small, the ongoing assistance of the 14 pre-schools and 450 plus children we now help in the Amazizi area of Northern KwaZulu Natal would not be possible.
Don't forget that The Cavern, in an effort to get more donations for the Khanyisela Project, is now linked to "Pack for a Purpose".
So if you are visiting from overseas or have family or friends visiting from overseas look at the website to see how you/they can help. We have listed our needs on the Pack for a Purpose website. www.packforapurpose.com
THANK YOU
Dave & Daphne Thurlwell, Megan Bedingham & Jean Carte
The Cavern – Khanyisela Projects Tel 083 512 0146