Hi All,
Daphne and I have had a very busy and productive three weeks at the Cavern. Firstly we helped to prepare for the Big5Hike Royal Drakensberg Primary (RDP) school fundraiser, then we visited the pre-schools to assess their needs and bought educational toys, stationery and tables and chairs. Next we delivered the fortified porridge and then we had a very busy week with two ladies from Scotland who came for two weeks to mentor all our teachers. Read more about that later.
---
Rotary Global Grant – Early Childhood Development Level 4 course
The Midlands College is doing site inspections at all the teachers schools this week and then the teachers will attend the last module of their course during the second week in June. The last week of their course will be used to prepare their portfolios for final assessment. Graduation should be towards the end of this year.
---
Singakwenza, ("you can do it") Workshop
We held the second in a series of three toys from waste workshops on the 20th February and as can be seen from the pictures below it was very successful. The workshop was attended by 25 of our teachers. On this occasion we hired one of the classrooms at a school for the venue and used a local Amazizi caterer for the refreshments.
Unfortunately Daphne and I were not in the area so could not attend, but Daphne followed up with the participants who all agreed that it was a great workshop and it was fantastic to learn how to make educational material from everyday waste.
We still have funds left over from a generous donation made by the Poyton Rotary Club in the UK, who funded this workshop and we will be using this to fund the last of the series of three "toys from waste" workshops. This is scheduled to take place on 15th October 2016.
---
Siqalakahle Pre-school – New Classroom
The second classroom was completed early this year and our thanks go to NET Projects who managed the building work and negotiated some discounts on materials, and to Afrimat who donated the concrete blocks for the structure.
The principal, Josephine is thrilled with the new building as she can now split the children (over 70) into age groups, thus enabling age appropriate teaching methods to be used.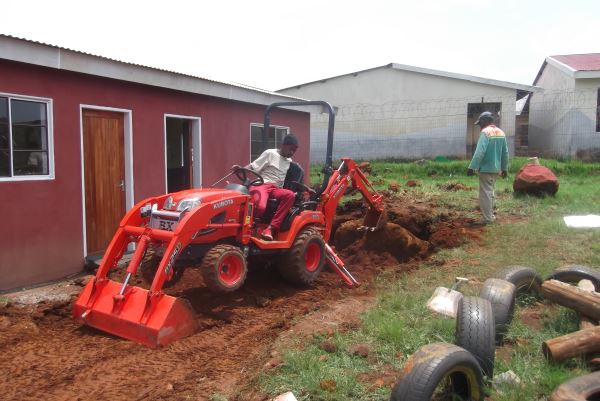 ---
SBUSISIWE SCHOOL
When we were first requested to assist the Sbusisiwe pre-school we went and found the small block building, which consisted of two small rooms each no more than 3×3 metres square. The main room (classroom) has one of its two windows closed up with rusty corrugated iron.
At that time the school had a teacher and assistant with 11 pupils. They had very few resources in the way of tables and chairs or educational toys etcetera. We began assisting them by delivering some toys, puzzles, stationery and a monthly supply of fortified porridge.

We are very impressed with the school principal, Sindisiwe Khoza, and her assistant and this little school has gone from strength to strength and now, despite its small size, accommodates 26 children.
Therefore it is our aim to provide this school with a new building similar to those that we have managed to get funded and built at other schools over the last few years. (At other schools that we have built classrooms we have seen that the pupil numbers have increased due, we are sure, to parents seeing the vast improvement in the facilities offered.)
At the moment we have R50 000.00 in the Khanyisela fund which is earmarked towards the cost of this building, (approximately R200 000.00) and are actively trying to raise sufficient funds to commence building hopefully before the end of this year.
If you are able to assist with a donation please contact Dave or Daphne by email – projects@royal-drakensberg.org.za – for details.
---
Marysia and Gemma
We were very busy with the two ladies from Scotland, Dr Marysia Nash and her colleague Gamma MacDonald. They are both speech and language specialists and work with pre-school children. They have come for two weeks to mentor all our teachers with particular reference to language development. After spending time at the schools they have recommended a number of games and toys for us to purchase. We will be buying these with money raised by Marysia and Gemma from friends and family back in the UK.

Daphne and I have been amazed at how much can be learnt through play with toys, puzzles, fantasy play with dolls, tea sets etcetera.
We are really grateful to these wonderful ladies who gave up two weeks of their annual leave to come, at their own cost, to help the Khanyisela Project pre-schools in this beautiful area of Africa. (We did allow them some time off to see some of the wildlife here in SA. Gemma is still recovering from her first experience with an elephant!)
---
Big 5 Hike
Once again the Big5Hike Royal Drakensberg Primary (RDP) school fundraiser has been a huge success. Although some of the hikers got caught in a rain storm it was not enough to dampen their spirits and an extended lunch stop in Cannibal Cavern was a jovial affair, no doubt helped along by the bubbly that accompanied the food.
Below is a section of Megan's comments sent out to all the hikers in her thank you letter.
"What has been achieved is remarkable and gives us great hope for the future. While there will always be worries and niggles, we can forget these for a short while when we do something really valuable. On Saturday we made a huge contribution and difference by taking time and ultimately investing in our children. A little work with the right focus will always give us a glimmer of hope and education remains the bright shining light that marks the future."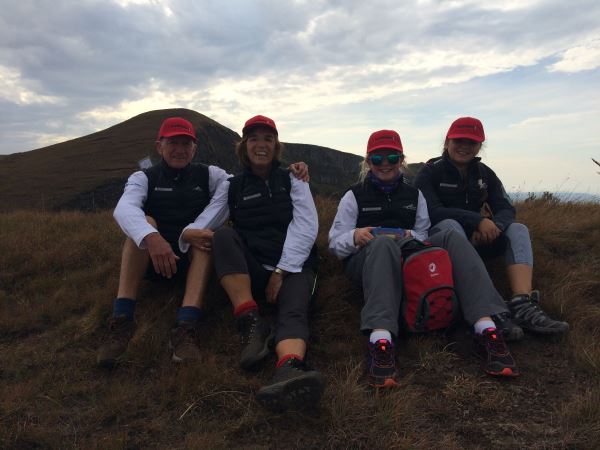 Big5Hike 2016 FACTS:
Raised: R722 000 Wow!
Registered: 75 adults & 15 children
Youngest hiker: 6yrs – what a champion, Keitumetse! Oldest hiker: 78yrs – we all remain very envious, Liesje!
TOP Individual fundraiser: R15 000 Excellent, Megan Hillburn!
Fastest Lap: Travis in 2hr 53minutes. Yes, he did it twice!
It was 5 peaks, 100 picnic lunches, 15 bottles of bubbles, 95 muffins, 95 choc-chip cookies, 120 dairy milk chocolates, 48 powerades, 24l of water, 14kg of spicy corn, 9 porters, 8 teachers, 6 flasks of coffee, 4 waiters, 3 lists ticked, 2 sprained ankles and 1 keg at homecoming…
---
Jumble Sale
Unfortunately we did not have time to hold a jumble sale during our time at the Cavern, but plan to hold a jumbo one when we return in August. So don't forget if you are visiting any of the resorts in the valley to bring along your jumble.
We also need any surplus dolls, teddy bears etcetera for our fantasy corners at the pre-schools. So bring them along as well.
---
PROJECT FUNDING AND DONATIONS
Thanks to a donation of jerseys and hats from the Rosebank Rotary Anne's we put smiles on the faces of the children at Hlelokuhle Pre-School. We also received other toys and puzzles that we distributed to the schools. Thanks Rosebank Rotary Anne's.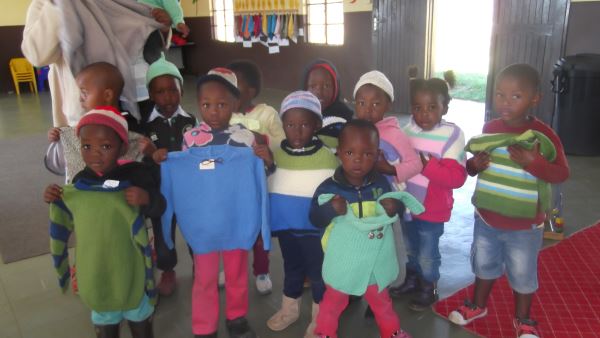 ---
Christina & Uli from Share for Life
While we were staying at the Cavern we were fortunate to meet with our long time supporters Christina and Uli. It was really great to meet them for the evening and then they announced a donation of R25000.00 would be coming our way. Thanks so much to them and thanks for all the work they do in our wonderful country.
Christina and Uli introduced us to Georg and Gertie Rotter from Austria who expressed interest in the Khanyisela Project. We took them on a whistle stop tour of two of our schools on Friday 13th May. A very lucky day for our Project as they have indicated that they would love to get involved with assisting us both with some funds and hands on!!!
---
Horst and Shelly Oldach donation
Once again we have received a wonderful donation from Horst and Shelly Oldach. We earmarked the donation of around R16000.00 to purchase more games, toys and stationery for the schools. We also purchased some items on the school's wish lists which were simple but important things like brooms, mops, spoons, swings, carpets, blankets, paints, paint brushes and paper.
Thanks so much Horst and Shelly you really make a difference.
As always we wish to thank EVERYONE for all the donations, big and small, which are helping to improve the early childhood development in this beautiful area of South Africa.
A special thank you goes to Mrs Brink, a regular donor, who recently funded English and Zulu books for all our schools.
We still have a few donors who make monthly donations of R100 into the project, but we would like many more. So if you would like to donate a small monthly amount to this worthy cause it would be fantastic. As we are part of Hearts for Hope we are able to issue tax certificates for any donations made to us.
Contact Dave or Daphne – projects@royal-drakensberg.org.za – for details on how to donate.
Without all your donations, both big and small, the ongoing assistance of the 14 pre-schools we now help in the Amazizi area of Northern KwaZulu Natal would not be possible.
Don't forget that The Cavern, in an effort to get more donations for the Khanyisela Project, is now linked to "Pack for a Purpose".
So if you are visiting from overseas or have family or friends visiting from overseas look at the website to see how you/they can help. We have listed our needs on the Pack for a Purpose website.
Visit www.packforapurpose.com
THANK YOU
Dave & Daphne Thurlwell, Megan Bedingham and Jean Carte.
The Cavern – Khanyisela Project Tel : 083 512 0146