Hi All,
We have recently spent 2 weeks at the Cavern visiting the Khanyisela Project schools to assess their needs for the year. Various items were bought in Johannesburg and issued. Still more needs to be done when we return in early April.
Rotary Global Grant
While we were at the Cavern, representatives of the Benoni Arora visited to check progress on the Rotary Global Grant. Megan, Daphne and I took them to several schools where they saw the children playing on the jungle gyms, looking at the books and (not at close quarters) using the toilets, all of which were bought using the Grant funds.
At the time of the visit ten of our teachers were attending the fourth module of the level 4 Early Childhood Development course at Midlands College in Nottingham Road. We had received a report from the college which was given to the Rotarians.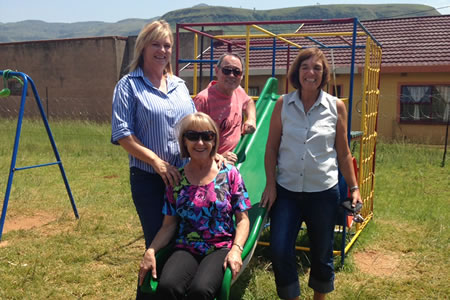 After their visit the Rotarians said that they were very satisfied with what they had seen and thanked us for what was being achieved at the pre-schools.
Pack for a Purpose
While we were at the Cavern we had the pleasure of showing Charlotte and Anders Fager some of our schools where they gave out crayons, erasers, pencils, rulers, etcetera that they had brought over from Sweden as part of the "Pack for a Purpose" initiative.
Don't forget that The Cavern, in an effort to get more donations for the Khanyisela Project, is now linked to "Pack for a Purpose". So if you are visiting from overseas or have family or friends visiting from overseas look at the website to see how you/they can help.
Visit www.packforapurpose.com
Montusi Mountain Lodge
Peter Hale and Nikki Baker visited Montusi in June last year and heard about the Khanyisela Project and asked if it would be possible that they could "Adopt" one of our pre-schools. We contacted them and they have very kindly adopted our new school, Siblisisie. During February we bought and supplied the school with books, colouring books, crayons, glues, bowls and spoons for their porridge and a carpet. Now they don't sit and play on the concrete floor.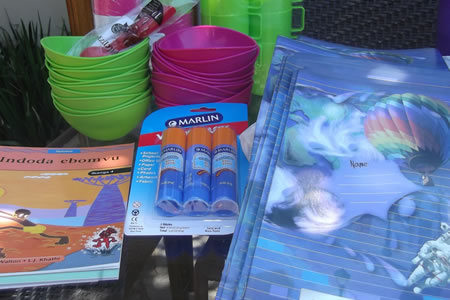 Peter and Nikki are Rotarians from England and are doing a presentation on the Khanyisela Project to their Club in an effort to get us funding.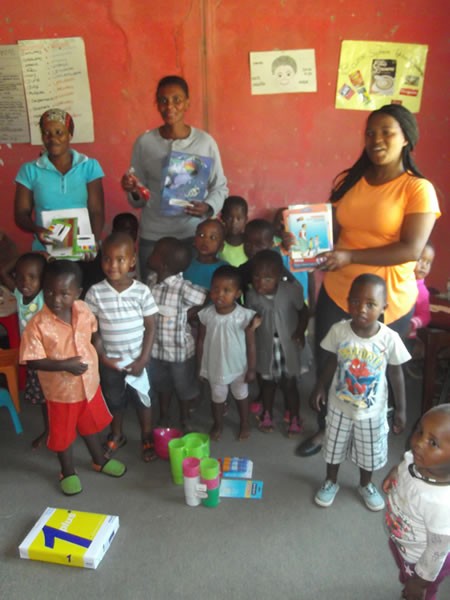 When we return in April we will be delivering Siblisisie more toys etcetera, all made possible by the generous donation of Peter and Nikki.
Justine Potter from Johannesburg also visited Montusi and read about our project. Justine has kindly donated money to the project for us to purchase stationery and toys etcetera for the schools. Justine is visiting Montusi again in April and we look forward to taking her to some of our schools.
We would like to thank the Montusi family for all their help in telling their guests about our project and also send a very big thank you to the above guests for their donations.
Royal Drakensberg Primary School – 2015 MTB Day Fundraiser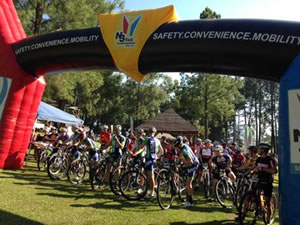 Don't forget to book for this awesome weekend in the Northern Drakensberg.
This event really puts the mountain into mountain biking!!!!
The 2015 Royal Drakensberg MTB Challenge will be held over the weekend 18th & 19th April.
Jumble Sale
Don't forget that if you are visiting The Cavern or any of the other Northern Berg resorts that your jumble will be gratefully received for selling to raise funds for our pre-schools.
Our next jumble sale will be held towards the end of April
Overall Project Funding
As always we wish to thank everyone for all the donations, big and small, which are helping to improve the early childhood development in this beautiful area of South Africa.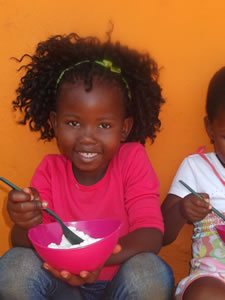 As a consequence of the monies received from the Rotary Global Grant we are in the fortunate position of having sufficient funds to build a new classroom. The school in most need is Siqalakuhle which has over 70 young learners attending.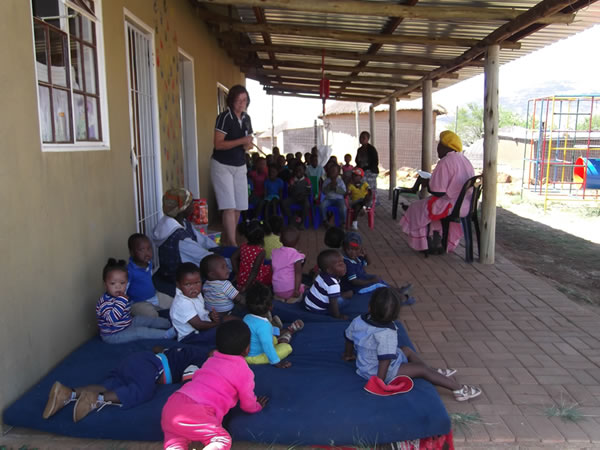 We are at present negotiating with NET Projects to build the classroom. NET in turn try to get materials donated in an effort to keep the cost as low as possible. Hopefully we will be building the classroom whilst Daphne and I are there in April/May.
Without all your generous donations, the ongoing assistance of the pre-schools in the Amazizi area of Northern KwaZulu Natal would not be possible. Thank you
Best regards,
Dave & Daphne Thurlwell, Megan Bedingham and Jean Carte.
The Cavern – Khanyisela Project | Tel : 083 512 0146